How to build a personal brand on LinkedIn: A comprehensive guide for CEOs
29 June 2023
Facing challenges in shaping a distinct and compelling personal brand on LinkedIn as a CEO?
In today's digital environment, an executive's personal brand can significantly influence the perception of the organisation.
A CEO's online persona is not just a reflection of their leadership style; it has transformative potential for attracting top-tier talent, cultivating a dedicated workforce, fostering business partnerships, and steering the company towards success. 
LinkedIn, a key platform for this, has moved far beyond being a simple networking tool; it's an essential part of your personal branding strategy.
Our comprehensive guide provides you with a framework on how you can leverage LinkedIn effectively to create an authoritative online executive presence and make your Linkedin profile work hard for you.
Step 1: Creating an impactful LinkedIn profile – The basics
With over 930 million members across 200+ countries, Linkedin is the world's largest professional networking site and a prime platform for CEOs to build their personal brands. But how do you navigate this vast professional network and turn your profile into a powerhouse? 
Let's start with the basics. Treat your LinkedIn profile as your personal homepage—it's the first impression you make. 
Your profile picture should be professional and friendly, and the banner image can be used to communicate something about your brand, whether that's your company logo or a mission statement.
Make sure your headline isn't just your job title; it should be a snapshot of who you are as a professional.
For example, instead of just "CEO at X Company," consider the following example: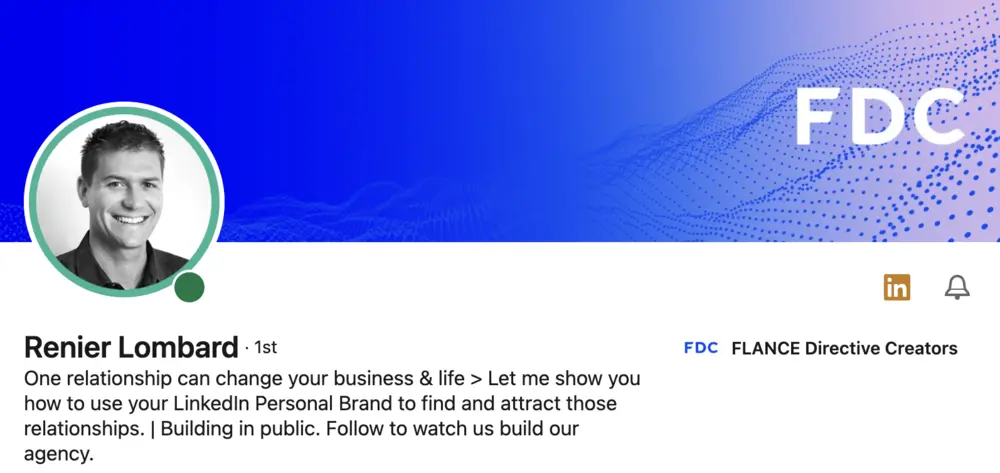 Remember also to pay special attention to the 'About' section. This is not a resume—instead, it's a glimpse into what drives you as a CEO, your career journey, your accomplishments, and your future aspirations.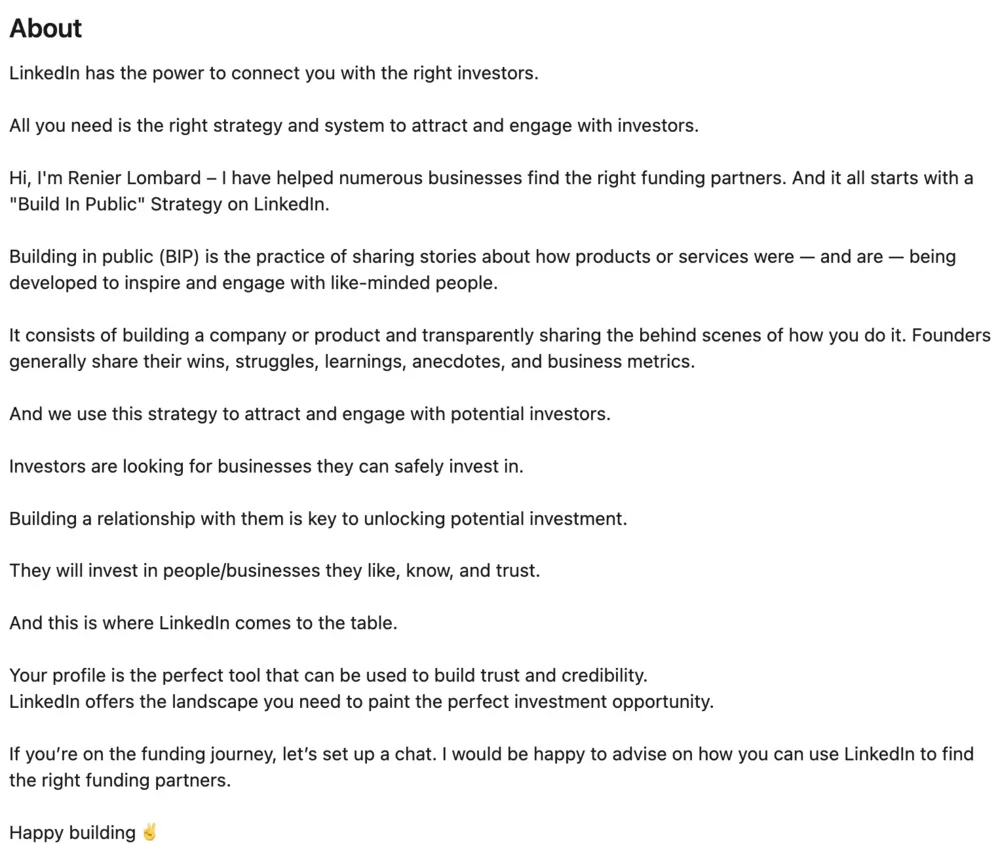 Step 2: Use LinkedIn to communicate your vision
Great leaders have a clear vision. On LinkedIn, you have a unique opportunity to share yours with a wide audience. Regularly post about what you're working on, industry trends, business insights, and your company's achievements. You can use your posts, articles, and interactions to showcase your thought leadership and the kind of leader you are.
Remember to keep the tone conversational and invite responses. This isn't just about broadcasting— it's about starting a dialogue and encouraging a culture of openness and shared learning.
The goal is not only to demonstrate your knowledge but also to invite others into the conversation.
Step 3: Build your professional Linkedin network
An important part of building your brand on LinkedIn is by connecting with the right people. You don't need to connect with everyone who sends you a request. Instead, curate a powerful network of professionals who share your interests and values.
The same rule applies when you are looking to expand your connections. Be selective. Target influencers in your industry, peers, and thought leaders who inspire you. 
Regularly engage with your connections' posts by commenting, sharing, or simply liking their updates. This activity not only keeps you top-of-mind among your connections but also aids in demonstrating your interest in their content and perspectives.
Step 4: Share your achievements and recognise others
LinkedIn is an excellent platform for sharing your accomplishments and spotlighting your team's work. The act of recognising others not only strengthens your relationship with your team but also exhibits your leadership style and company culture to your wider network.
When sharing your achievements, focus on the journey, the challenges, and the learning, rather than just the final success. This narrative-driven approach makes your story more engaging and relatable.
Step 5: Create and share valuable content
Content is king, even on LinkedIn. Sharing articles, infographics, reports, or case studies related to your industry positions you as a thought leader. Regularly posting high-quality content increases your visibility and encourages engagement from your network.
And it's not just about creating your own content—sharing relevant content from other sources is also beneficial. This demonstrates that you are well-informed and engaged with the wider industry.
When developing your content strategy, remember your audience. Your followers on LinkedIn likely include employees, peers, and potential business partners. What do they want to know? How can you provide value to them? From sharing insights on industry trends to providing tips on leadership, there are countless ways you can engage your audience through content.
Step 6: Leverage LinkedIn features
LinkedIn offers a range of features to elevate your personal brand, including,
LinkedIn live: It allows you to hold Q&A sessions, webinars, or share live updates, 

Recommendations: This section can be utilised to highlight endorsements from your colleagues, employees, or industry peers.

Linkedin analytics: Making use of this feature helps you understand who your audience is and what content they engage with the most. This can inform your content strategy and help you focus on what's working.
Step 7: Be authentic
Above all, your LinkedIn profile should be a reflection of your true self. Authenticity is key to creating genuine connections and establishing trust. Don't be afraid to share your interests, values, and even the occasional personal updates. 
Common LinkedIn branding mistakes CEOs make
Despite its importance, a surprising number of CEOs often have trouble when it comes to optimising their Linkedin profiles. 
In our experience working with executives, we've identified common LinkedIn branding mistakes that CEOs make on their LinkedIn profiles. Here are a few: 
Not having a clear personal brand: When you don't have a clear personal brand, it will be difficult for people to connect with you or understand what you offer. 

Not being active on LinkedIn: LinkedIn is a social media platform, so it's important to be active on it. This means posting regularly, engaging with other users, and participating in discussions. If you're not active on LinkedIn, you'll be invisible to potential connections.

Not sharing valuable content: When you post on LinkedIn, make sure you're sharing valuable content that your audience will find interesting and engaging. This could include articles, blog posts, videos, or even just your own thoughts and insights. If you're not sharing valuable content, people will quickly lose interest in your profile.
In conclusion, building a strong personal brand as a CEO on LinkedIn is about more than just maintaining a profile—it's about engagement, sharing insights, and creating a digital executive presence that matches your in-person reputation. 
A personal brand is not constructed overnight. It's a cumulative result of consistent effort, meaningful interaction, and authentic engagement. 
By starting with the basics, communicating your vision, curating a powerful network, celebrating achievements (both yours and others), creating valuable content, leveraging LinkedIn's features, and, most importantly, keeping it authentic, you can make your LinkedIn profile a robust extension of your leadership.
As a CEO, leveraging the power of LinkedIn can significantly enhance your personal brand, which will help not only your own professional growth but also the overall visibility and reputation of your company. Be proactive, engaged, and authentic, and watch your personal brand thrive on LinkedIn.
And remember, one connection can change your business. 
Reach out to us if you need help building your personal brand on LinkedIn. Let us help you grow.